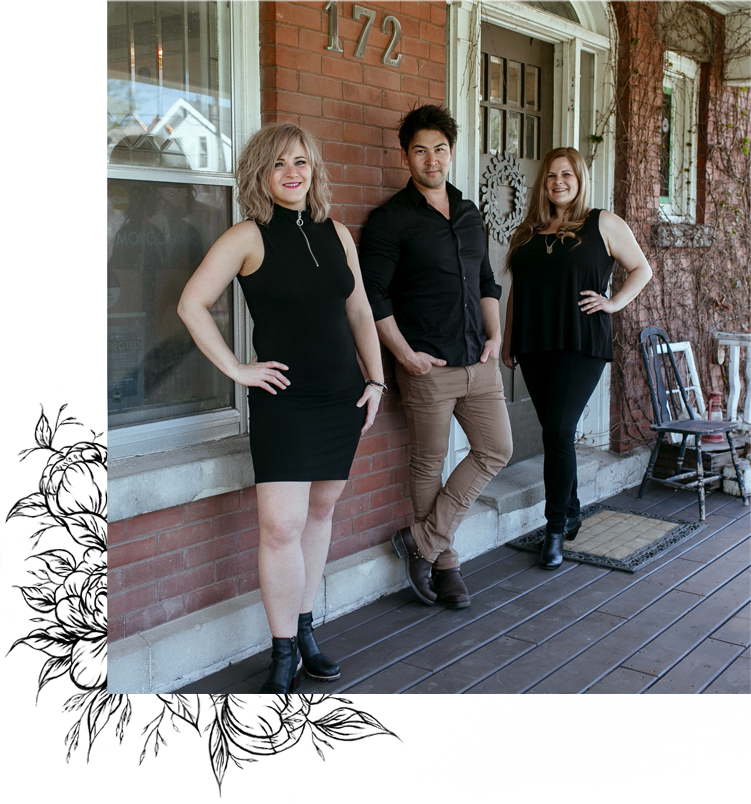 Elan Vitale means -
Vital Force.
Our team doesn't choose one size fits all beauty.
We believe that you are naturally beautiful and nothing is sexier than rocking your own vibe. We take time to listen; care and create -to suit your individual needs. Whether we're helping you to relax and unwind or to set goals for your perfect look we are right alongside to support you!
The Elan Vitale approach offers effective, luxury treatment with predictable and professional results in all areas of expertise.
Our History
The home of Elan Vitale Salon & Day Spa – the house at 172 West Main Street – has enjoyed a great deal of history since being built in 1914 by well-known local businessman Samuel L. Lambert. Lambert originally built this home as well as the famed Reeta Hotel and Lambert Theatre in Welland. The Welland County General Hospital purchased the house in 1919 and converted it to Sunniholme Rooms in 1932. "The home away from home", operated as a rooming house for many years. The Nero family in Welland later took over the house.
Since 1988, 172 West Main Street turned its focus to salon services when prominent local hairstylist Barry Maurice and his wife Cheryl purchased the house.
Barry was well-known for his creativity and flare, especially when it came to those who enjoyed punk rock. Barry owned the property until the year 2000 when his daughter purchased the property and opened Elan Vitale Salon and Day Spa.
Lisa Maurice is a well known educator, professional and aesthetician by trade. Lisa and her husband went to great lengths to restore the house to its original glamour through countless restoration projects.
Elan Vitale grew its customer base with a stellar reputation of quality products and superior service. It still holds this status within the community today. Under the ownership of Maurice, Elan Vitale had won a number of awards for services and performance… as well as a number of podium finishes for Horticultural gardens between 2001 and 2005.
In 2007, a pair of young entrepreneurs made a leap of faith and took over the operations. Lisa Sheptenko and Jeremy Rocca brought forward much modernization and continued to build a professional team of exceptional quality beauty industry professionals.
In November of 2013, passionate entrepreneur and stylist Nikki Fairlie purchased the company and is the present owner today. Nikki and her husband Johnny continue to be very active in the beauty industry and local community.
Nikki remains a stylist at Elan Vitale. Her external position with Schwarzkopf Professional as a Brand Educator keeps her on the forefront of technique and product knowledge within the salon. Nikki loves to be involved in the community, offering regular hair cuts at the Welland Open Arms Mission for many years and participating in community events. Her passion for ethical, local and high quality business practices aligns with Elan Vitale as her staff emerge as industry leaders.
Johnny is a true innovator and creative leader in business. Johnny is the in house Educator for the EV Training programs. He is constantly monitoring new treatments and technologies to keep Elan Vitale current and relevant in a constantly evolving market.
A wonderful story of history in the making -Elan Vitale has been a part of the Welland Downtown core for many years. Only time will tell what will be added to the story next!